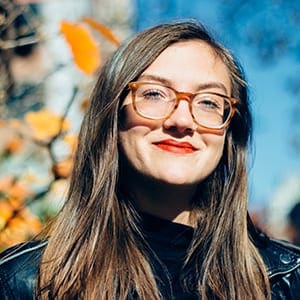 Liz Bowen
PhD
Presidential Scholar
Liz Bowen is an English literature and disability studies scholar and was the 2020-2022 Rice Family Fellow in Bioethics and the Humanities at The Hastings Center. Her research combines formal analysis with historical context to explore how Americans' understandings of disability and chronic illness, gender and sexuality, and extrahuman ecologies have shaped both literary form and public discourse. Her dissertation project, "Animal Abilities: Disability, Species Difference, and American Literary Experimentation," argues that some of the last century's most influential literary experiments have built upon aesthetic modes associated with both disability and animality, from Faulkner to the Harlem Renaissance to contemporary disability art and literature. Before completing her PhD in English and comparative literature at Columbia University, Liz was the graduate organizer and access coordinator for Columbia's University Seminar on Disability, Culture, and Society for five years, and she served as the program assistant for Columbia's working group on Precision Medicine: Ethics, Politics, and Culture. Her peer-reviewed work is forthcoming in English Literary History and Amodern, and she has published critical reviews and essays in The Journal of Literary and Cultural Disability Studies, Humanimalia: A Journal of Human/Animal Interface Studies, and Animaladies: Gender, Animals, and Madness (Bloomsbury 2018). She is also an expert in gender and sexuality studies, and holds a certificate in feminist scholarship from Columbia University's Institute for Research on Women, Gender, and Sexuality.
One of Liz's deepest commitments as a scholar is expanding notions of literary and intellectual citizenship, and she considers public-facing work paramount to that mission. In her role as assistant editor of Public Books, she helps scholars communicate their ideas—and, most importantly, the stakes of those ideas—to a general audience. At PB, she has commissioned a stream of content that bridges the realms of academic disability studies and broader disability activism. Meanwhile, during her two years as assistant editor of Synapsis: A Health Humanities Journal, she played a central part in the publication's mission of making the insights of the health humanities accessible to a broad audience. In her editorial work, she has worked with artists, clinicians, musicians, humanities scholars, and writers from a variety of backgrounds to bring the insights of disability theory and activism to new publics.
In addition to her scholarly work, Liz is a widely published poet and poetry critic. Her first full-length poetry collection, Sugarblood, was published by Metatron Press in 2017, and her second book, Compassion Fountain, is forthcoming from Trembling Pillow Press. Her poems and essays have appeared in The New Inquiry, Post45, Public Books, Boston Review, American Poetry Review, Lit Hub, and elsewhere. She is also the senior poetry editor of Peach Mag. Further publications, press, and CV can be found at her website, liz-bowen.com.
Posts by Liz Bowen
Related Posts