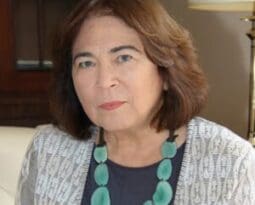 Mildred Z. Solomon, President
Mildred Solomon has an international reputation for her research on, and advocacy for, better end-of-life care. In addition to being president of The Hastings Center, she is a professor at Harvard Medical School, where she directs the Fellowship in Medical Ethics, a program that builds the bioethics capacity of the Harvard teaching hospitals. She led many change initiatives to improve palliative care, including programs that involved 40,000 healthcare professionals in the United States in more than 200 hospitals and international programs that reached tens of thousands of clinicians and policy-makers in Europe and Asia. She is also an expert on organ transplantation, research ethics, professionalism, and responsible conduct of research, and she is an investigator on The Hastings Center's project on gene editing and human flourishing. She is frequently interviewed by NPR, the New York Times, National Geographic, and other leading media outlets. Her articles and  commentaries appear in a wide range of journals and other publications, including  Health Affairs, JAMA Pediatrics, the Journal of Medicine, Law and Ethics.
Before assuming the leadership of The Hastings Center, Dr. Solomon was senior director of implementation science at the Association of American Medical Colleges. Earlier, she was vice president of the Education Development Center, a global nonprofit research and development organization. She earned a doctorate in educational research methods and adult learning from Harvard University and a B.A. from Smith College.
In the Media
NPR's "Morning Edition" on long work shifts for medical residents.
National Geographic on research on the genetics of intelligence.
Maine Public Radio on ethical concerns about compensating organ donors.
Reuters on removing financial barriers to organ donation.
Reuters on doctors Googling their patients.
Washington Times on Brittany Maynard and physician aid-in-dying.
Renal & Urology News on the use of dialysis at the end of life.
Selected Scholarly Publications
Mildred Z. Solomon, Michael K. Gusmano, and Karen J. Maschke, "The Ethical Imperative and Moral Challenges of Engaging Patients and the Public With Evidence," Health Affairs 2016; 35 (4).
Alan Fleischman and Mildred Solomon, "Comparative Effectiveness Research: Ethical and Regulatory Guidance," JAMA Pediatrics 2014; 168 (22).
Selected Commentaries
Mildred Z. Solomon, "Bioethicists Do Embrace Science, but Not Indiscriminately," Boston Globe, August 6, 2015.
Mildred Z. Solomon and Nancy Berlinger, "Seizing a Medicare Moment to Improve End-of-Life Care," Time, July 31, 2015.
Mildred Z. Solomon, "How Institutional Review Boards Can Support Learning Health Care Systems While Providing Meaningful Oversight," Health Affairs Blog, June 5, 2015.
Selected Presentations
"Deadly Medicine: Nazi Eugenics and its Implications Today" (New York Genome Center)