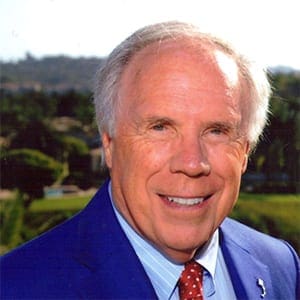 Blair L. Sadler
J.D.
Board Member
Blair L Sadler is a senior fellow at the Institute for Healthcare Improvement (IHI), and a member of the faculty at the University of California San Diego's Rady School of Management. He teaches and writes about the power of transparency and leadership in crises. He served as president and CEO of the Rady Children's Hospital in San Diego from 1980 to 2006.
Fifty years ago, he and his physician brother, Alfred, were very involved in the drafting of the Uniform Anatomical Gift Act as consultants to the Uniform Law Commission. The law was approved in 1968 and was adopted in all 50 states in three years. They have written extensively about the legal, ethical, and policy issues involved in organ donation, including an article providing a 50 year perspective on the law in the Hastings Center Report. He served on the board of the Hastings Center from 2006 to 2018 and is a founding fellow of the Center.
Previously, he served as a medical-legal specialist at the National Institutes of Health, on the faculty at the Yale University School of Medicine and codirector of the Yale PA program, as a senior officer at the Robert Wood Johnson Foundation, and as a senior executive at the Scripps Clinic and Research Foundation. He is a member of the board of directors of Health Care without Harm, an environmental health advocacy organization. He is a graduate of Amherst College and the University of Pennsylvania Law School. He clerked for two judges on the Superior Court of Pennsylvania.
He is the co-author of leading articles relating to organ and tissue donation, evidence-based architectural design, and health care quality improvement, as well as three books: Transforming the Health Experience through the Arts, The Physician's Assistant Today and Tomorrow, and Emergency Medical Care: The Neglected Public Service.
He chairs the Board of Access Youth Academy, a San Diego nonprofit organization devoted to transforming the lives of underserved youth through combining individualized academic advancement, health and wellness, community service, and leadership skills with the sport of squash.
He lives in La Jolla, California, with his wife, Georgia, who is a cancer researcher focusing on cultural barriers to care, and is a professor in the department of surgery at the UCSD School of Medicine.
Posts by Blair L. Sadler
Related Posts