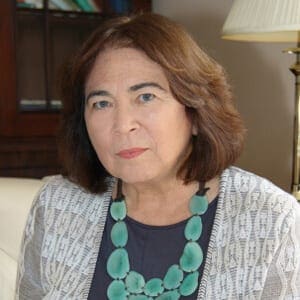 Mildred Z. Solomon
Ed.D.
President Emerita
Mildred Solomon has an international reputation for her research on, and advocacy for, wiser health care and science policy. She was President of The Hastings Center from 2012 to June 2023. She is Professor of Global Health and Social Medicine, part time, at Harvard Medical School, where she directs the school's Fellowship in Bioethics. Dr. Solomon is both a bioethicist and social science researcher. The primary focus of her bioethics scholarship has been on the ethics of end-of-life care for adults and children, organ transplantation, protection of human research participants, responsible conduct of research, and the governance of emerging technologies.
Dr. Solomon's scholarship in bioethics has informed health policy in a number of ways. She has served on committees of, and consulted to, the National Academies of Science, Engineering and Medicine. She served a five-year term on the U.S. Secretary of Health and Human Services Advisory Committee on Organ Transplantation, and she currently is on the advisory council of the Public Health and Human Rights Program at the Open Society Foundations. Recently, she provided expert consultation and a background scholarly paper on end-of-life care for the Aspen Institute's Aspen Health Strategies Group. She is serving a two-year term on the World Economic Forum's Global Council on Technology, Values and Policy.
She is the author of numerous scholarly papers, published in a broad range of journals, including the American Journal of Public Health, Health Affairs, the Hastings Center Report, the Journal of Law, Medicine and Ethics, and JAMA Pediatrics. A frequent speaker, her research and policy work have been described in the New York Times, the Washington Post, the Huffington Post, and other major media outlets.
Before assuming the leadership of The Hastings Center, Dr. Solomon was senior director of implementation science at the Association of American Medical Colleges. There, she was responsible for helping the nation's academic medical centers develop their capacities in comparative effectiveness research and implementation science. Before that, she was vice president of the Education Development Center, a global nonprofit research and development organization with approximately $140 million annually in grants and more than 1,500 staff worldwide. She earned a doctorate in educational research methods and adult learning from Harvard University and a B.A. from Smith College.
In the Media
Morning Consult on vaccine holdouts: who they are and what's fueling their opposition
MPR on the ethics of the COVID-19 pandemic
Politico on the fight over unproven drugs for coronavirus
Washington Post on some doctors working 30-hour shifts at U.S. hospitals.
National Geographic on research on the genetics of intelligence.
Maine Public Radio on ethical concerns about compensating organ donors.
Reuters on removing financial barriers to organ donation.
Reuters on doctors Googling their patients.
Washington Times on Brittany Maynard and physician aid-in-dying.
Renal & Urology News on the use of dialysis at the end of life.
Selected Scholarly Publications
Mildred Z. Solomon, Michael K. Gusmano, and Karen J. Maschke, "The Ethical Imperative and Moral Challenges of Engaging Patients and the Public With Evidence," Health Affairs 2016; 35 (4).
Alan Fleischman and Mildred Solomon, "Comparative Effectiveness Research: Ethical and Regulatory Guidance," JAMA Pediatrics 2014; 168 (22).
Mildred Z. Solomon, "Modern Dying: From Securing Rights to Meeting Needs," Annals of the New York Academy of Sciences 2014; 1330.
Selected Commentaries
Mildred Z. Solomon, "The 4 Big Ethical Questions of the Fourth Industrial Revolution," World Economic Forum blog, October 10, 2016.
Mildred Z. Solomon, "Bioethicists Do Embrace Science, but Not Indiscriminately," Boston Globe, August 6, 2015.
Mildred Z. Solomon and Nancy Berlinger, "Seizing a Medicare Moment to Improve End-of-Life Care," Time, July 31, 2015.
Mildred Z. Solomon, "How Institutional Review Boards Can Support Learning Health Care Systems While Providing Meaningful Oversight," Health Affairs Blog, June 5, 2015.
Selected Presentations
Commencement address to Harvard Medical School's first master's in bioethics graduates. Harvard commencement speech
Keynote address to Fourth Annual Conference on Governance of Emerging Technologies: Law, Policy, and Ethics, Arizona State University, Tempe, Az., May 24-26, 2016
"Deadly Medicine: Nazi Eugenics and its Implications Today" (New York Genome Center)
Achieving Patients' and Consumers' Use of Evidence, talk given at Health Affairs briefing April 2016. Related to Mildred Z. Solomon, Michael K. Gusmano, and Karen J. Maschke, "The Ethical Imperative and Moral Challenges of Engaging Patients and the Public With Evidence," Health Affairs 2016; 35 (4).
Posts by Mildred Z. Solomon
Related Posts