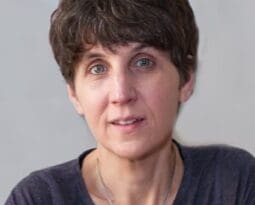 Nancy Berlinger, Research Scholar
Nancy Berlinger focuses on ethical challenges in health care work and on related areas of professional education and health policy in the United States and internationally. Special interests include treatment decision-making and care near the end of life; ethical issues in the management of chronic illnesses, including cancer; access to health care for undocumented immigrants and migrant workers; and the ethics of workarounds and other practices for managing problems of safety and harm in health care systems. She frequently serves on public policy initiatives related to her research, including the bioethics committee of the White House Office of Science and Technology Policy Initiative on Cancer Diagnostics in Sub-Saharan Africa (2015 – present); ActionHealthNYC Community Advisory Panel, City of New York (2016 – 2017); and the Care and Coverage Subgroup of the New York City Mayor's Task Force on Immigrant Health Access (2014 – 2015). She is is the author, co-author, or co-editor of four books, and her scholarly articles and commentaries appear in leading journals and other publications. She is frequently interviewed by the media, including the New York Times, Politico, and NPR.
Dr. Berlinger is leading several current projects. Improving End of Life Care in the Hospital, conducted with the Society of Hospital Medicine, the largest medical society representing hospitalists, is creating new skills-based training resources for hospital clinicians and a quality improvement framework for hospital leaders. She also co-directs Care Transitions in Aging Societies, a project to produce an online casebook for caregivers of aging patients in Singapore, and The Hastings Center's undocumented patients project. She directed the research project that produced a revised and expanded edition of The Hastings Center Guidelines for Decisions on Life-Sustaining Treatment and Care Near the End of Life (2013) and is the first author of the book.
She is a graduate of Smith College and earned a Ph.D. in English literature from the University of Glasgow. She received a M.Div., with a focus on ethics, from Union Theological Seminary.
In the Media
Think Progress on the good and the bad of Silicon Valley billionaires funding medical research
Stat News on ethical implications of steep price increase of aid-in-dying medicine
New York Times on doctors behaving badly
NPR's "To the Point" on trusting doctors to teach tomorrow's doctors ethical behavior
Politico on California proposal to allow undocumented immigrants to purchase health insurance
Books
Nancy Berlinger, Are Workarounds Ethical? Managing Moral Problems in Health Care Systems, Oxford University Press, 2016.
Jacqueline J. Chin, et al (eds), Making Difficult Decisions with Patients and Families: A Singapore Casebook, National University of Singapore, 2014.
Nancy Berlinger, Bruce Jennings, and Susan M. Wolf, The Hastings Center Guidelines for Decisions on Life-Sustaining Treatment and Care Near the End of Life, Oxford University Press, 2013.
Nancy Berlinger, After Harm: Medical Error and the Ethics of Forgiveness, Johns Hopkins University Press, 2005.
Selected Scholarly Publications
Jacob Moses, Nancy Berlinger, Michael C. Dunn, Michael K. Gusmano, and Jacqueline J. Chin, "Bioethics Casebook 2.0: Using Web-Based Design and Tools to Promote Ethical Reflection and Practice in Health Care," Hastings Center Report 45, no. 6 (2015): 19-25.
Susan M. Wolf, Nancy Berlinger, and Bruce Jennings, "Forty Years of Work on End-of-Life Care – From Patients' Rights to Systemic Reform," New England Journal of Medicine 372; 7 (2015): 678-82.
Nancy Berlinger, Raymond Barfield, and Alan R. Fleischman, "Facing Persistent Challenges in Pediatric Decision-Making: New Hastings Center Guidelines,"Pediatrics 132:5 (2013): 789-91
Nancy Berlinger, "Get With the Program" (The Mail), The New Yorker, August, 24, 2015.
Mildred Z. Solomon and Nancy Berlinger, "Seizing a Medicare Moment to Improve End-of-Life Care," Time, July 31, 2015.
Nancy Berlinger, "Alzheimer's Disease, Biomarkers, and Suicide: Why We Need to Think About All Three Together," Braingenethics, June 2014.
Public Policy Guidance
Nancy Berlinger, Claudia Calhoon, Michael K Gusmano, and Jackie Vimo, "Undocumented Patients and Access to Health Care in New York City: Identifying Fair, Effective, and Sustainable Local Policy Solutions: Report and Recommendations to the Office of the Mayor of New York City," The Hastings Center and the New York Immigration Coalition, April 2015.
Nancy Berlinger and Jacob Moses, "The Five People You Meet in a Pandemic – and What They Need From You Today," The Hastings Center, November 2007; selected for inclusion in "Promising Practices: Pandemic Influenza Preparedness Tools," a peer-reviewed database maintained by CIDRAP and the Pew Center on the States.