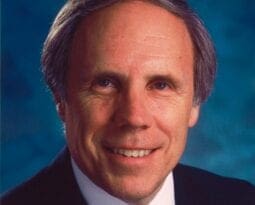 Blair L Sadler, Board Member
Blair L. Sadler JD is Past President of the Rady Children's Hospital in San Diego, a Senior Fellow at the Institute for Healthcare Improvement in Boston, and a faculty member at the UCSD Schools of Medicine and Management. He served as President and CEO of Children's Hospital from 1980 to 2006. Born in New York City and a graduate of Amherst College and the University of Pennsylvania Law School, he served as a Law Clerk on the Superior Court of Pennsylvania, as a medical-legal specialist for NIH, on the Yale University Medical School faculty, as Assistant Vice President at the Robert Wood Johnson Foundation, and as Vice President and Director of the hospitals and clinics at Scripps Clinic and Research Foundation in La Jolla.
While at Children's, he helped to create the first Center for Child Health Outcomes and, under his leadership, the hospital received the Ernest A. Codman award from JCAHO for their pioneering work in developing and utilizing clinical pathways (the first pediatric organization to be so honored). He was the founding Chair of the Child Health Accountability Initiative (CHAI), a consortium of 15 children's hospitals dedicated to improving the quality of health care for America's children. Appointed by President Clinton, he served on the US-Mexico Border Health Commission. He received the Award of Merit from the California Hospital Association, in recognition of his contributions to improved health care. Mr. Sadler has had a long standing interest in bioethical issues. He and his physician twin brother (Alfred) were two of the original Founding Fellows of the Hastings Center in 1968. They were heavily involved in the drafting, development and dissemination of the Uniform Anatomical Gift Act designed to streamline the process of organ and tissue donation while protecting voluntary consent. The model law, including the organ donor card, was adopted in all 50 states in three years. They participated in several task forces at the Center on this and related topics.
In addition, he has co-authored two books and written extensively on quality and health care. As a member of the Board of the Center for Health Design, he has been a passionate advocate of the need to build hospitals that encourage healing, and help to reduce medical errors and harm to patients. He is a frequent speaker nationally and internationally on the impact of evidence-based design and the business case for building optimal hospitals. He has created and supported an international competition to recognize artists and musicians.