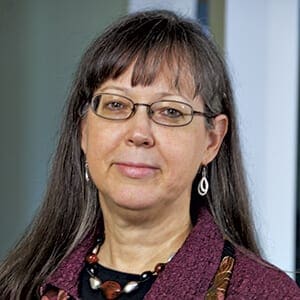 Karen J. Maschke
Ph.D.
Research Scholar; Editor, Ethics & Human Research
Download CV for Karen J. Maschke
Karen Maschke has expertise on the ethical, legal, and policy issues associated with the development, regulation, and use of new biomedical technologies, including genomic tests, stem cell interventions, and brain imaging technologies. She is also an expert on the ethical, legal, and policy issues related to human subjects research, research with human biospecimens, and data sharing and data privacy. In addition to being a research scholar, she is the editor of the Hastings Center's journal, Ethics & Human Research. She has numerous scholarly publications and has been interviewed by media outlets including NPR, Reuters, and the Washington Post.
Dr. Maschke's research on genetic research with human biospecimens and the governance of research biobanks, including this recent project, explores issues of informed consent, privacy, data sharing, and the disclosure of genomic test information to research participants. She currently is an investigator on a National Science Foundation-funded project that examines the role of values in formal impact assessment mechanisms such as cost-benefit analysis and risk assessment for calculating the risks and benefits of emerging technologies, particularly for synthetic biology. Building on this work, she is developing a long-term research project that examines how values and interests about scientific innovation, risk assessment, and government intervention in medicine and technology assessment play a role in disputes about evidentiary standards for regulatory approval and payer coverage of new biomedical technologies.
Dr. Maschke has a Ph.D. in political science from Johns Hopkins University and a master's degree in bioethics from Case Western Reserve University. Prior to joining The Hastings Center in 2003, she was an assistant professor of political science at Oakland University in Michigan and at the University of Georgia, and a Bioethics Fellow at the Cleveland Clinic.
In the Media
Medical Tribune about early testing for Alzheimer's disease
Washington Post on use of unproven platelet treatment for sports injuries
Medpage on use of big data in medical research
Reuters on Rebecca Skloot's book, The Immortal Life of Henrietta Lacks
Reuters live discussion with Rebecca Skloot
National Public Radio's "All Things Considered" on the first human face transplant
Selected Scholarly Publications
Karen J. Maschke, Michael K. Gusmano, "Medicare and Amyloid PET Imaging: The Battle Over Evidence," Journal of Aging & Social Policy, forthcoming.
Karen J. Maschke, Michael K. Gusmano, "Politics, Values, and Access to Untested Medical Interventions: The Case of Stem Cell Treatments," Journal of Health Politics, Policy and Law September 2016; 40(6).
Mildred Z. Solomon, Michael K. Gusmano, and Karen J. Maschke, "The Ethical Imperative and Moral Challenges of Engaging Patients and the Public with Evidence," Health Affairs 2016:35(4):583-589.
Aaron J. Goldenberg, et al. (Karen J. Maschke a co-author), "IRB Practices and Policies Regarding the Secondary Research Use of Biospecimens," BMC Medical Ethics 2015;8;16(1):1.
Suzette J. Bielinski, et al. (Karen J. Maschke a co-author), "Preemptive Genotyping for Personalized Medicine: Design of the Right Drug, Right Dose, Right Time, Using Genomic Data to Individualize Treatment Protocol," Mayo Clinic Proceedings 2014;89(1):25-33.
Jeffrey R. Botkin, et al. (Karen J. Maschke a co-author), "Proposed Regulations for Research with Biospecimens: Responses from Stakeholders at CTSA Consortium Institutions," American Journal of Medical Genetics 2014;164A(4):892-897.
Karen J. Maschke, "Returning Genetic Research Results: Considerations for Existing No-return and Future Biobanks," Minnesota Journal of Law, Science & Technology 2012;13:559-574.
Book
Thomas H. Murray, Karen J. Maschke, and Angela Wasunna, eds. Performance-Enhancing Technologies in Sports: Ethical, Conceptual, and Scientific Issues. Johns Hopkins University Press, 2009.
Selected Commentaries
Eric Trump and Karen J. Maschke, "Do Allografts Equal Organs?" MedPage Today, July 10, 2014.
Karen J. Maschke, "When Evidence is Contested," Hastings Center Report 2014;44(3).
Matts G. Hansson and Karen J. Maschke, "Biobanks: Questioning Distinctions," Science,2009;326(5954):797.
Karen J. Maschke, "Human Research Protections: Time for Regulatory Reform?" Hastings Center Report 2008;38(2):19-22.
Eric Trump and Karen J. Maschke, "A Stranger in the Mirror: Should Doctors Transplant Faces?" New York Times, October 12, 2004.
Posts by Karen J. Maschke
Bioethics Forum Essay

Ethics and Evidence in the Search for a Vaccine and Treatments for Covid-19

Read the Post

Bioethics Forum Essay

The Need for Open and High Quality Preclinical Science

Read the Post

From Bioethics Briefings

Biobanks: DNA and Research

Read the Post

Bioethics Forum Essay

The American Medical Association's Apology in Context: The Need for Restoration

Read the Post