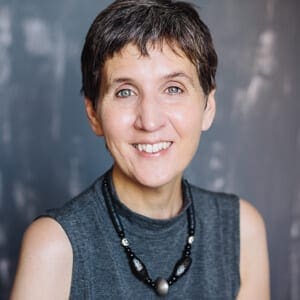 Nancy Berlinger
Ph.D.
Senior Research Scholar
Download CV for Nancy Berlinger
Nancy Berlinger is a Research Scholar at The Hastings Center, an independent bioethics research institute based in Garrison, NY. Her current research focuses on ethical and societal challenges arising from population aging; the bioethics of migration, and responding to and learning from the Covid-19 pandemic. She has longstanding research interests in decision-making and care in serious illness and near the end of life; the management of problems of safety and harm in health systems, and the moral dimensions of care work. She directs The Hastings Center's Visiting Scholar Program, including the Sadler Scholars Program for doctoral students from underrepresented communities, here.
Highlights of current and recent work:
Bioethics for aging societies:
Since 2016, Berlinger has overseen the development of research projects and public-facing work exploring the consequences of population aging, with close attention to what it means to flourish in late life, how to support experiences such as living with dementia, and how to apply concepts and data from housing-focused research and policy analysis to conceptualizing aging in community.
Selected publications:
M Gary and N Berlinger. "Interdependent Citizens: The Ethics of Care in Pandemic Recovery." Hastings Center Report. May-June 2020. Access here
"Aging in (a) Place: Planning, Design & Spatial Justice in Aging Societies," Public symposium, Harvard Graduate School of Design, October 18, 2019 The Harvard Joint Center for Housing Studies in partnership with The Hastings Center. Agenda and videos here
N Berlinger, "With No Dementia Cure in Sight, It's Time for Communities to Become Dementia Friendly." STAT News, August 14, 2019. Access here
N Berlinger, K de Medeiros, and MZ Solomon, eds., What Makes a Good Life in Late Life? Citizenship and Justice in Aging Societies, special report, Hastings Center Report 48, no. 5 (2018). Access here
JJ Chin, MC Dunn, N Berlinger, and MK Gusmano, "Good Care at Home for Older People in Singapore," Centre for Biomedical Ethics, Yong Loo Lin School of Medicine, National University of Singapore, 2017. Access here
JJ Chin, N Berlinger, MC Dunn, C W-L. Ho, MK Gusmano, eds., Making Difficult Decisions with Patients and Families: A Singapore Casebook (National University of Singapore, January 2014) Access here; JJ Chin, N Berlinger, MC Dunn, MK Gusmano, eds., Caring for Older People in an Ageing Society: A Singapore Bioethics Casebook, Volume II (National University of Singapore, May 2017) Access here
SM Wolf, N Berlinger, and B Jennings, "40 Years of Work on End-of-Life Care – From Patients' Rights to Systemic Reform," NEJM 372; 7 (2015): 678-82. Read here
The bioethics of migration:
In 2011, Berlinger co-founded the Undocumented Patients Project to explore ethical challenges arising in health care access for undocumented immigrants. This project maintains a public database of literature on this topic and produces public health convenings on local, national, and global challenges. A 2014 convening in partnership with the New York Immigration Coalition produced recommendations for a direct-access approach to health care for uninsured undocumented immigrants that was piloted and fully implemented in the nation's largest public health system. A 2018 convening, "Creating Systems of Safety for Immigrant Health," brought clinical, legal, and community-based practitioners together to explore how health systems could effectively respond to the needs of immigrants as a vulnerable population. With support from the World Health Organization, she co-developed a framework and toolkit to analyze literature on community-level pandemic responses to migrant health. She was a 2018 resident at the Bellagio Center of the Rockefeller Foundation for her current book project on the bioethics of migration.
Selected publications:
N Berlinger, L Eckenwiler, V Wild, B Wills, "Responding to Low-Wage Migrant Workers' Health During COVID-19: A Normative Framework and Practical Toolkit for Using 'Grey Literature' as a Source of Promising Practices and Policy Ideas" Resource prepared for Public Health Emergency Preparedness and Response Ethics Network (PHEPREN) and the Ethics and Governance Unit, WHO, March 31, 2021
N Gray, N Boucher, L Cervantes, N Berlinger, et al., "Hospice Access and Scope of Services for Undocumented Immigrants: A Clinician Survey," Journal of Palliative Medicine. 2020 Dec 22.
Access here
L Cervantes and N Berlinger, "Moving the Needle: How Hospital-Based Research Expanded Medicaid Coverage for Undocumented Immigrants in Colorado," Health Progress March-April 2020. Access here
N Berlinger, "'Getting Creative': From Workarounds to Sustainable Solutions for Immigrant Health Care," Journal of Law Medicine & Ethics 47, no. 3 (2019): 409-11.
N Berlinger, "More Than Just Sanctuary, Migrants Need Social Citizenship," Aeon (August 29, 2017). Access here
N Berlinger, C Calhoon, MK Gusmano, and J Vimo, "Undocumented Patients and Access to Health Care in New York City: Identifying Fair, Effective, and Sustainable Local Policy Solutions: Report and Recommendations to the Office of the Mayor of New York City," The Hastings Center and the New York Immigration Coalition, April 2015.
Selected publications responding to Covid-19:
N Berlinger, M Wynia, et al, The Hastings Center Covid-19 Ethical Framework and Supplements:
"Ethical Framework for Health Care Institutions Responding to Novel Coronavirus SARS-CoV-2 (Covid-19), with Guidelines for Institutional Ethics Services Responding to Covid-19," March 16, 2020. Access here; "Responding to Covid-19 as a Regional Public Health Challenge: Preliminary Guidelines for Regional Collaboration Involving Hospitals," April 29, 2020. Access here; "Access to Therapeutic and Palliative Drugs in the Context of Covid-19: Justice and the Relief of Suffering," July 16, 2020. Access here; "Ethical Challenges in the Middle Tier of Covid-19 Vaccine Allocation: Guidance for Organizational Decision-Making," January 15, 2021. Access here
Selected empirical research on Covid-19:
Co-Investigator, Study to Examine Physicians' Pandemic Stress (STEPPS) (Greenwall Foundation and NIOSH, 2021-23, subcontracts from UNC-Chapel Hill).
Co-Principal Investigator, Covid Responses for Equitable Community-based Aging Policies and Practices (Covid RECAPP) (Retirement Research Foundation for Aging, 2021-22, sub-contract from Harvard University).
Her books include: Are Workarounds Ethical? Managing Moral Problems in Health Care Systems (Oxford, 2016); The Hastings Center Guidelines for Decisions on Life-Sustaining Treatment and Care Near the End of Life: Revised and Expanded Second Edition (Oxford, 2013, with Bruce Jennings, and Susan M. Wolf), and After Harm: Medical Error and the Ethics of Forgiveness (Johns Hopkins, 2005).
She serves on the Bioethics Committee of Montefiore Medical Center, Bronx, NY and on the Longterm Care Work Group of the Empire State Bioethics Consortium. She teaches at Lehman College, City University of New York.
She is a graduate of Smith College and received the PhD in English literature from the University of Glasgow and the MDiv, with a focus on ethics, from Union Theological Seminary.
Posts by Nancy Berlinger
Related Posts