Solomon to Step Down as Hastings Center President
Leaves legacy of expanded research, finances, and impact; board launches search for successor
NEW YORK (18 JULY 2022) – Hastings Center President Mildred Z. Solomon announced today that she plans to step down in June 2023, marking 11 years of leadership at the pioneering ethics institute.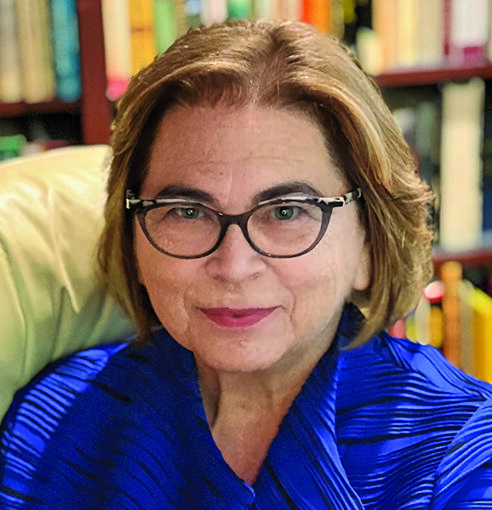 "It has truly been a privilege to lead such an intellectually rigorous and influential organization," Dr. Solomon said, "and especially gratifying that we have used the Center's platforms, networks, and standing to foster critical values like respect, compassion, solidarity, and justice in health and science policy, research, and practice. I'm tremendously proud of my Hastings colleagues and our board and advisers. What we've achieved, we have achieved together, building on prior generations of strength."
"Millie has responded magnificently to the complexities of leading this organization," said Bradford Gray, chair of the Center's board of directors. "Under her leadership, the Center has advanced scholarship not only in the traditional domains of bioethics but also with respect to underdeveloped issues of justice. The board is deeply grateful for the leadership she has shown."
Founded in 1969 by Daniel Callahan and Willard Gaylin, The Hastings Center was the first research institute in the world devoted to bioethics. Under Dr. Solomon's leadership, the Center emerged as one of the nation's leaders in Covid-19 ethics, deepened its research on the ethical implications of new biomedical technologies, and increased its long-standing commitment to studies promoting just and compassionate care. She launched numerous new research initiatives—among them a major program on the wise use of emerging technologies—which enabled scholars to define new research priorities and secure support from the National Institutes of Health, National Science Foundation, and private foundations. Completed research has resulted in books, special reports, peer-reviewed papers, and policy recommendations on a wide variety of topics, including evidence-based medicine and regulatory oversight, human gene editing, newborn genomic sequencing, prenatal testing, gene editing in the wild, research on chimeric models of human disease, community health, end-of-life care, population aging, organ donation, and death. She also expanded the reach of the Center's widely respected journal, the Hastings Center Report, and relaunched the Center's second journal as Ethics & Human Research.
Dr. Solomon dramatically increased public programs, bringing the organization's insights to new and expanded audiences. Under her leadership, the Center now produces Hastings Conversations — high-profile virtual events on major ethical challenges — including a live discussion with Anthony Fauci on public trust in science.
The Center has long been a trusted source for reporters, with scholars' voices found on NPR and in the Washington Post, the New York Times, the Wall Street Journal, Nature, Scientific American, and other outlets. During the pandemic, Hastings emerged as a key source of ethics advice and analysis after it led the development of Covid-19 guidance. Its two journals, blog, and online events transformed into hubs of discussion on issues raised by the crisis.
In addition to encouraging and enabling the Center to do public engagement, Dr. Solomon encouraged research on public engagement. A 2021 report, Democracy in Crisis: Civic Learning and the Reconstruction of Common Purpose, recommended ways to enhance civic engagement on controversial issues in health and science policy. Another report identified the best methods for encouraging public deliberation on the use of genetic technologies, while a new initiative is exploring how best to respond to growing distrust in science.
Since its inception, the Center has been deeply engaged with ethical questions related to death and dying — from early work defining brain death to the globally esteemed The Hastings Center Guidelines for Decisions on Life-Sustaining Treatment and Care Near the End of Life. Under Dr. Solomon's leadership, the Center broadened its focus to examine underlying social and economic factors, like housing needs and social isolation, that affect aging populations. This shift meant taking up the question of what a just society owes its oldest members.

In 2020, Dr. Solomon made it a priority for the Center to advance health equity. It established an initiative that sparked a two-day Health Equity Summit earlier this year that brought together policymakers, medical professionals, and other experts to discuss solutions to address health and justice challenges. The summit was a collaboration with the Association of American Medical Colleges, the American Medical Association, the American Nurses Association, and the American Board of Internal Medicine Foundation. The Center also launched two programs to strengthen involvement in bioethics by students from groups historically underrepresented in the field. And the Hastings Center Report published a report on anti-Black racism and health that calls on the field of bioethics to lead efforts to remedy racial injustice and health inequities. As a crucial part of this commitment to diversity, the Center also expanded its work on disability.
"One very critical aspect of Millie's leadership has been successfully spearheading pipeline programs that help to ensure greater diversity in the field of bioethics for generations to come," said Michele Goodwin, a Hastings Center board member and fellow who is a Chancellor's Professor of Law at the University of California, Irvine, and founding director of the Center for Biotechnology and Global Health Policy and its Reproductive Justice Initiative.
Dr. Solomon leaves the organization in a position of unprecedented financial strength. The Center's board-designated reserve and endowment have nearly tripled under her leadership. The 50th-anniversary campaign, now under way, will exceed its goal of raising $12.5 million.
Her achievements at the Center follow a distinguished career in bioethics, with senior roles at Harvard Medical School, the Association of American Medical Colleges, and the Education Development Center. From June 2023, Dr. Solomon will continue her involvement with Hastings in a new capacity and her long-standing role at Harvard Medical School, where she is a professor of global health and social medicine (part-time) and directs a fellowship in bioethics for clinicians.
The Center's board has formed a presidential search committee to conduct an international search for the next president. The search committee is co-chaired by Hastings Center fellows Dr. Christine Grady, chief of the Department of Bioethics at the National Institutes of Health, and Dr. Joseph J. Fins, The E. William Davis, Jr., Professor of Medical Ethics and chief of the Division of Medical Ethics at Weill Cornell Medical College, who also serves on the Center's board.
The board has retained the leadership advisory firm Spencer Stuart to assist with the search. Comments, suggestions of candidates, and applications can be sent in confidence to Flip Jaeger, consultant, at hastingspresident@spencerstuart.com.
For more information, contact:
Mark Cardwell or Susan Gilbert
The Hastings Center
communications@thehastingscenter.org