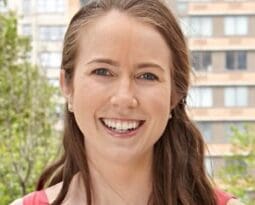 Carolyn P. Neuhaus, Research Scholar
(845) 424-4040 x255 Email Twitter
Carolyn P. Neuhaus explores philosophical and ethical questions that arise throughout biomedical research and medical practice, from the philosophical foundations of the use of animals in biomedical research to adolescent medicine. She is currently engaged in research in The Hastings Center's Humans and Nature and Science and the Self project areas.
Prior to joining The Hastings Center, she was Rudin Postdoctoral Fellow in the Division of Medical Ethics of NYU School of Medicine under the mentorship of Arthur Caplan, a Hastings Center Fellow. Her postdoctoral research focused on the use of genome editing tools, such as CRISPR, in nonhuman organisms for public health purposes.
Dr. Neuhaus's work has appeared in JAMA, American Journal of Bioethics, and the Cambridge Quarterly of Healthcare Ethics, among other journals.  She also frequently writes for bioethics blogs and news outlets. She is a member of the American Society for Bioethics and Humanities, the International Neuroethics Society, the American Philosophical Association, and the New York Society for Women in Philosophy. She serves on the Emerging Professionals Working Group of PRIM&R.
She earned a BA in philosophy from Georgetown University and her PhD in philosophy from The Graduate Center of the City University of New York. Her doctoral research was supported by fellowships from The Graduate Center, CUNY and the Icahn School of Medicine at Mount Sinai.
IN THE MEDIA
Gizmodo on xenotransplantation
Scientific American on CRISPR-edited mice
Unearthed on using genetic engineering to control mosquitoes
SELECTED SCHOLARLY PUBLICATIONS
Carolyn Neuhaus and Arthur Caplan, "Genome Editing – Bioethics Shows the Way," PLoS Biology. Epub March 16, 2017.
Carolyn Neuhaus, "Teens and Research: Should Adolescents be Enrolled in Trials of Deep Brain Stimulation for Anorexia Nervosa?" Cambridge Quarterly of Healthcare Ethics 25, no. 4 (2016): 659-673.
Arthur L. Caplan, Brendan Parent, Michael Shen, and Carolyn Plunkett [Neuhaus], "No Time to Wait – The Ethical Challenges of CRISPR," EMBO Reports 16, no. 11 (2015): 1421-1426.
Arthur L. Caplan, Carolyn Plunkett [Neuhaus], and Bruce Levin, "Selecting the Right Tool for the Job," American Journal of Bioethics 15, no. 4 (2015): 4-10.
SELECTED COMMENTARIES
"Get the Public Involved in Chimera Research at NIH" Bioethics.net, August 15, 2016
"Get Out of the Way of Human Genetic Engineering? Unwise and Uncalled For" (with Arthur L. Caplan), Forbes, June 7, 2016.
"Widening the Use of Deep Brain Stimulation: Ethical Considerations in Research on DBS to Treat Anorexia Nervosa," The Neuroethics Blog, November 24, 2015.
"Worth the Money? Paying to Ensure a Representative Cohort in the Precision Medicine Initiative" (with Lisa Kearns and Arthur L. Caplan). Health Affairs Blog, July 30, 2015.