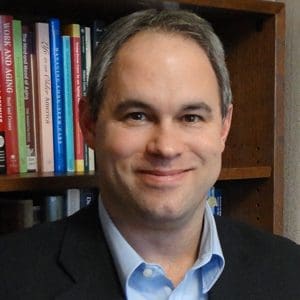 Michael K. Gusmano
Ph.D.
Senior Research Scholar
Michael Gusmano investigates health care equity in the U.S. and other countries. His research and publications have focused on health policy, aging, and comparative welfare state analysis. He is the codirector of the World Cities Project, the first effort to compare the performance of health, social, and long-term care systems in New York, London, Paris and Tokyo, the four largest cities among the wealthy nations of the world. In addition to being a research scholar at The Hastings Center, he is a professor and associate dean for academic programs in the College of Health at Lehigh University. He has authored four books and more than 100 scholarly articles. He is frequently interviewed by reporters about health policy issues.
Dr. Gusmano is an investigator on The Role of Values in Impact Assessment and Care Transitions in Aging Societies, a Singapore-based project that is producing an online casebook that focuses on ethical challenges of caring for people in an aging society. He is codirector of the Undocumented Patients project, concerned with finding ways to improve access to health care for undocumented immigrants. He serves on public policy initiatives related to his research, including the Bioethics Steering Committee of the White House Office of Science, Technology and Policy Initiative on Access to Health Care in Saharan Africa (2015-present) and the New York City Mayor's Task Force on Immigration (2014-2015).
He holds a Ph.D. in political science from the University of Maryland at College Park and a master's degree in public policy from the State University of New York at Albany. He was post-doctoral fellow in the Robert Wood Johnson Foundation Scholars in Health Policy program at Yale University.
In the Media
Stat News on Donald Trump's proposed health care plan for immigrants
Modern Healthcare on the controversy over vaccination
CBS Atlanta on vaccination and the measles outbreak
Politico on undocumented immigrants' access to health care
U.S. News on Americans' distrust of the medical profession
Books
Michael K. Gusmano, Victor G. Rodwin, and Daniel Weisz, Health Care in World Cities: New York, London and Paris, Johns Hopkins University Press, 2010.
Carol M. Grogan and Michael K. Gusmano, Healthy Voices, Unhealthy Silence: Advocating for Poor Peoples' Health, Georgetown University Press, 2007.
Victor G. Rodwin and Michael K. Gusmano, Growing Older in World Cities:New York, London, Paris and Tokyo, Vanderbilt University Press, 2006.
Selected Scholarly Publications
Mildred Z. Solomon, Michael K. Gusmano, and Karen J. Maschke, "The Ethical Imperative and Moral Challenges of Engaging Patients and the Public with Evidence," Health Affairs, April 2016.
Michael K. Gusmano and Frank J. Thompson, "An Examination of Medicaid Delivery System Reform Incentive Payment Initiatives Underway in Six States," Health Affairs, July, 2015.
Michael K. Gusmano et al., "A Comparative Analysis of Rehospitalizations in France and the U.S.,"
Journal of Comparative Policy Analysis, 2015.
Michael K. Gusmano, "Objections to the Use of Cost-Effectiveness Analysis in the US: Language, Trust
and Values," Health Economics, Policy and Law, October 2015.
Michael K. Gusmano, Victor G. Rodwin, and Daniel Weisz, "Cities and Health: A Response to the Recent Commentaries," International Journal of Health Policy and Management, 2015; 149.
Michael K. Gusmano et al., "Shanghai Rising:Evidence on Health Improvements Since 2000,"
International Journal of Health Policy and Management, 2015; 4(1): 7–12.
Daniel Weisz et al., (Michael K. Gusmano co-author), "Emergency Department Use: A
Reflection of Poor Primary Care Access?" American Journal of Managed Care, 2015; 21(2): 91-98.
Michael K. Gusmano, "Review of Financing Medicaid: Federalism and the Growth of America's Health Care Safety Net by Shanna Rose," Perspectives on Politics, 2015; 13(2): 46-48.
Josephine Johnston, Michael K. Gusmano, and P. Patrizio, "Reducing Rate of Fertility Multiples Requires Policy Changes," (letter) JAMA Pediatrics, 2015; 169(3): 287.
Posts by Michael K. Gusmano
Related Posts