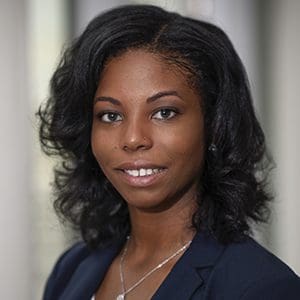 Faith E. Fletcher
PhD
Senior Advisor
Faith Fletcher is an assistant professor in the Center for Medical Ethics and Health Policy at Baylor College of Medicine, a senior advisor to The Hastings Center, and a Hastings Center fellow. Drawing from diverse disciplines and methodologies from bioethics, public health, and behavioral science, her empirical research investigates pressing health concerns and inequities facing traditionally marginalized populations. In her scholarship, she focuses on issues relating to reproductive health and autonomy, informed decision-making, structural stigma, and trustworthiness in both research and health care settings.
Dr. Fletcher received training through Fordham University's HIV Research Ethics Training Institute and is a contributor to the American Public Health Association's Code of Public Health Ethics. Her K01 Award, funded through the NIH/ National Human Genomic Research Institute, uses a stakeholder engagement approach to develop ethical practices and guidelines for engaging Deep South residents in genomics research. Dr. Fletcher was recently named to the Greenwall Faculty Scholars Program in Bioethics Class of 2026. Her work will examine the role of bioethicists in advancing maternal health equity among Black women in the U.S.
In collaboration with an antiracism task force, Dr. Fletcher is a co-editor of The Hastings Center special report, "A Critical Moment in Bioethics: Reckoning with Anti-Black Racism Through Intergenerational Dialogue." In 2017, Dr. Fletcher was named one of the National Minority Quality Forum's 40 under 40 Leaders in Health for her commitment to improving access to scientific research and quality health care for medically underserved populations. This prestigious award acknowledges the next generation of leaders primed to reduce health disparities.
Selected Publications
Fletcher FE. Ethical, Legal, and Social Implications of Genomics Research: Implications for Building a More Racially Diverse Bioethics Workforce. Am J Bioeth. 2023 Jul;23(7):106-108. doi: 10.1080/15265161.2023.2207519. PMID: 37339311.
Ray K, Fletcher FE, Martschenko DO, James JE. Black Bioethics in the Age of Black Lives Matter. J Med Humanit. 2023 Jun;44(2):251-267. doi: 10.1007/s10912-023-09783-4. Epub 2023 Feb 8. Erratum in: J Med Humanit. 2023 Feb 24; PMID: 36752936; PMCID: PMC9905759.
Fletcher FE, Lapite FC, Best A. Rethinking the Moral Authority of Experience: Critical Insights and Reflections from Black Women Scholars. Am J Bioeth. 2023 Jan;23(1):27-30. doi: 10.1080/15265161.2022.2146807. PMID: 36595006; PMCID: PMC9999370.
Fletcher FE, Ray KS, Brown VA, Smith PT. Addressing Anti-Black Racism in Bioethics: Responding to the Call. Hastings Cent Rep. 2022 Mar;52 Suppl 1(Suppl 1):S3-S11. doi: 10.1002/hast.1360. PMID: 35470874; PMCID: PMC10118282.
Sodeke S, Fletcher FE, Brown VA, Stone JR, Wilson CB, Franklin TH, Royal CDM, Bonham VL. Celebrating Marian Gray Secundy: Herstory as an Important Force in Bioethics. Hastings Cent Rep. 2022 Mar;52 Suppl 1(Suppl 1): S83-S88.
Fletcher FE, Thomas SP, Lapite FC, Ray K. Bioethics Must Exemplify a Clear Path toward Justice: A Call to Action. Am J Bioeth. 2022 Jan;22(1):14-16. doi:
Lapite FC, Morain SR, Fletcher FE. Grounding Medical Education in Health Equity: The Time is Now. Am J Bioeth. 2021 Sep;21(9):23-25. doi: 10.1080/15265161.2021.1952352. PMID: 34399667; PMCID: PMC9033841.
Fletcher FE, Jiang W, Best AL. Antiracist Praxis in Public Health: A Call for Ethical Reflections. Hastings Cent Rep. 2021 Mar;51(2):6-9. doi: 10.1002/hast.1240. PMID: 33840102; PMCID: PMC9009418.
Fletcher FE, Amutah-Onukagha N, Attys J, Rice WS. How Can the Experiences of Black Women Living With HIV Inform Equitable and Respectful Reproductive Health Care Delivery? AMA J Ethics. 2021 Feb 1;23(2):E156-165. doi: 10.1001/amajethics.2021.156. PMID: 33635196.
Best AL, Fletcher FE, Kadono M, Warren RC. Institutional Distrust among African Americans and Building Trustworthiness in the COVID-19 Response: Implications for Ethical Public Health Practice. J Health Care Poor Underserved. 2021;32(1):90-98. doi: 10.1353/hpu.2021.0010. PMID: 33678683; PMCID: PMC7988507.
Rice WS, Ingram LA, Fisher CB. Ethical Challenges and Lessons Learned from Qualitative Research with Low-Income African American Women Living with HIV in the South. J Health Care Poor Underserved. 2019;30(4S):116-129. doi: 10.1353/hpu.2019.0122. PMID: 31735725; PMCID: PMC7509837.
Fletcher FE, Fisher C, Buchberg MK, Floyd B, Hotton A, Ehioba A, Donenberg G. "Where Did This [PrEP] Come From?" African American Mother/Daughter Perceptions Related to Adolescent Preexposure Prophylaxis (PrEP) Utilization and Clinical Trial Participation. J Empir Res Hum Res Ethics. 2018 Apr;13(2):173-184. doi: 10.1177/1556264618755919. Epub 2018 Feb 22. PMID: 29471706.
Fletcher F, Ingram LA, Kerr J, Buchberg M, Bogdan-Lovis L, Philpott-Jones S. "She Told Them, Oh That Bitch Got AIDS": Experiences of Multilevel HIV/AIDS-Related Stigma Among African American Women Living with HIV/AIDS in the South. AIDS Patient Care STDS. 2016 Jul;30(7):349-56. doi: 10.1089/apc.2016.0026. PMID: 27410498; PMCID: PMC4948216.
Selected Works and Media
Website: Faith Fletcher, Ph.D, M.A. | BCM; HOME | Faith Fletcher
Complete List of Published Work in My Bibliography. https://www.ncbi.nlm.nih.gov/myncbi/1tGPdLaillPwQC/bibliography/public/
Posts by Faith E. Fletcher
Related Posts