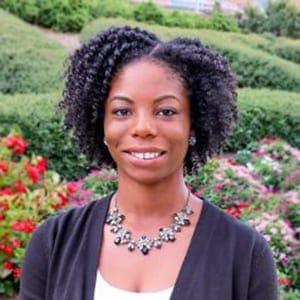 Faith E. Fletcher
Ph.D
Senior Advisor
Faith Fletcher is an assistant professor at Baylor College of Medicine. She is currently co-chair of the American Society for Bioethics and Humanities RACE Affinity Group, a national special interest group committed to promoting bioethics discourse and cross-disciplinary collaboration around social and structural disadvantage. Her research over the past decade investigates the health care and research experiences of traditionally marginalized and stigmatized populations to inform ethically grounded and community-centered practices and strategies. Her scholarship is enhanced through the Fordham University HIV Research Ethics Training Institute Fellowship, and highlights the importance of centering the narratives and research experiences of women living with HIV to inform evidence-based research guidance. Dr. Fletcher is also a contributor to the American Public Health Association's new Code of Public Health Ethics.
In 2017, Dr. Fletcher was named one of the National Minority Quality Forum's 40 under 40 Leaders in Health for her commitment to engaging marginalized and vulnerable populations in scientific research. This prestigious award acknowledges the next generation of leaders primed to reduce health disparities. Dr. Fletcher is currently involved in health promotion/education COVID-19 projects focused on equitable engagement of health disparity populations in the Deep South. She is also a 2020 Society of Family Planning Changemakers grantee dedicated to collaborating with medically underserved communities by embracing them as valued research partners to promote equity in family planning research and outcomes.
Dr. Fletcher's research has been funded and supported through the University of Illinois at Chicago Program for Building Interdisciplinary Careers in Women's Health Research K12 Fellowship, Center for AIDS Research, Center for Clinical and Translational Science, Kaiser Permanente Burch Minority Leadership Program, and Centers for Disease Control and Prevention Public Health Dissertation Program (R36).
She holds a BS in biology from Tuskegee University; an MA in bioethics, humanities, and society from Michigan State University; and a PhD in health promotion, education and behavior from the University of South Carolina. Dr. Fletcher also completed a National Cancer Institute R25T-funded Postdoctoral Fellowship in the Department of Behavioral Science at The University of Texas MD Anderson Cancer Center.
Selected Publications
Ethics and Health Equity
Fletcher FE, Amutah-Onukagha N, Attys J, Rice WS. "How Can the Experiences of Black Women Living with HIV Inform Equitable and Respectful Reproductive Health Care Delivery?" AMA Journal of Ethics® February 2021, Volume 23, Number 2: E150-159.
Fletcher FE, Rice WS, Ingram LA, Fisher CB. Ethical Challenges and Lessons Learned from Qualitative Research with Low-Income African American Women Living with HIV in the South. J Health Care Poor Underserved. 2019;30(4S):116-129. doi: 10.1353/hpu.2019.0122. PMID: 31735725; PMCID: PMC7509837.
Fletcher FE, Fisher C, Buchberg MK, Floyd B, Hotton A, Ehioba A, Donenberg G. "Where Did This [PrEP] Come From?" African American Mother/Daughter Perceptions Related to Adolescent Preexposure Prophylaxis (PrEP) Utilization and Clinical Trial Participation. J Empir Res Hum Res Ethics. 2018 Apr;13(2):173-184. doi: 10.1177/1556264618755919. Epub 2018 Feb 22. PMID: 29471706
Stewart CA, Cooper KE, Raymond MB, Fletcher FE, Bonham VL. Pragmatic Clinical Trial-Collateral Findings: Recognizing the Needs of Low-Resource Research Participants. Am J Bioeth. 2020 Jan;20(1):19-21. doi: 10.1080/15265161.2019.1687786. PMID: 31896326.
Liza Dawson, Nanette Benbow, Faith E Fletcher, Seble Kassaye, Amy Killelea, Stephen R Latham, Lisa M Lee, Thomas Leitner, Susan J Little, Sanjay R Mehta, Omar Martinez, Brian Minalga, Art Poon, Stuart Rennie, Jeremy Sugarman, Patricia Sweeney, Lucia V Torian, Joel O Wertheim, Addressing Ethical Challenges in US-Based HIV Phylogenetic Research, The Journal of Infectious Diseases, Volume 222, Issue 12, 15 December 2020, Pages 1997–2006, https://doi.org/10.1093/infdis/jiaa107
Seaman SM, Van Pilsum Rasmussen SE, Nguyen AQ, Halpern SE, You S, Waldram MM, Anjum SK, Bowring MG, Muzaale AD, Ostrander DB, Brown D, Massie AB, Tobian AAR, Henderson ML, Fletcher FE, Smith B, Chao A, Gorupati N, Prakash K, Aslam S, Lee DH, Kirchner V, Pruett TL, Haidar G, Hughes K, Malinis M, Trinh S, Segev DL, Sugarman J, Durand CM. Brief Report: Willingness to Accept HIV-Infected and Increased Infectious Risk Donor Organs Among Transplant Candidates Living With HIV. J Acquir Immune Defic Syndr. 2020 Sep 1;85(1):88-92. doi: 10.1097/QAI.0000000000002405. PMID: 32427721; PMCID: PMC7429320.
COVID-19 and Health Equity
Fletcher FE, Allen S, Vickers SM, Beavers T, Hamlin CM, Young-Foster D, Harris-Turner S, Erwin PC. COVID-19's Impact on the African American Community: A Stakeholder Engagement Approach to Increase Public Awareness Through Virtual Town Halls. Health Equity. 2020 Jul 15;4(1):320-325. doi: 10.1089/heq.2020.0029. PMID: 32775941; PMCID: PMC7410280.
Allen S, Julian Z, Coyne-Beasley T, Erwin PC, Fletcher FE. COVID-19's Impact on Women: A Stakeholder-Engagement Approach to Increase Public Awareness Through Virtual Town Halls. J Public Health Manag Pract. 2020 Nov/Dec;26(6):534-538. doi: 10.1097/PHH.0000000000001249. PMID: 32890254.
Best AL, Fletcher FE, Kadono M, Warren R. Institutional Distrust among African Americans and Building Trustworthiness in the COVID-19 Response: Implications for Ethical Public Health Practice. Journal of Health Care for the Poor and Underserved. Preprint: https://preprint.press.jhu.edu/preprints/institutional-distrust-among-african-americans-and-building-trustworthiness-covid-19
HIV and Health Equity
Fletcher FE, Sherwood NR, Rice WS, Yigit I, Ross SN, Wilson TE, Weiser SD, Johnson MO, Kempf MC, Konkle-Parker D, Wingood G, Turan JM, Turan B. Resilience and HIV Treatment Outcomes Among Women Living with HIV in the United States: A Mixed-Methods Analysis. AIDS Patient Care STDS. 2020 Aug;34(8):356-366. doi: 10.1089/apc.2019.0309. PMID: 32757978; PMCID: PMC7415239.
Rice WS, Fletcher FE, Akingbade B, Kan M, Whitfield S, Ross S, Gakumo CA, Ofotokun I, Konkle-Parker DJ, Cohen MH, Wingood GM, Pence BW, Adimora AA, Taylor TN, Wilson TE, Weiser SD, Kempf MC, Turan B, Turan JM. Quality of care for Black and Latina women living with HIV in the U.S.: a qualitative study. Int J Equity Health. 2020 Jul 6;19(1):115. doi: 10.1186/s12939-020-01230-3. PMID: 32631424; PMCID: PMC7336413.
Fletcher, Faith E.; Vidrine, Damon J.; Buchberg Trejo, Meredith K.; Molina, Yamile'; Sha, Beverly E.; Floyd, Brenikki R.; Sarhene, Noreen; Mator, Jamesetta; and Matthews, Alicia K. (2019) ""You Come Back to the Same Ole Shit:" A Qualitative Study of Smoking Cessation Barriers among Women Living with HIV: Implications for Intervention Development," Journal of Health Disparities Research and Practice: Vol. 12 : Iss. 2 , Article 7. Available at: https://digitalscholarship.unlv.edu/jhdrp/vol12/iss2/7
Fletcher F, Ingram LA, Kerr J, Buchberg M, Bogdan-Lovis L, Philpott-Jones S. "She Told Them, Oh That Bitch Got AIDS": Experiences of Multilevel HIV/AIDS-Related Stigma Among African American Women Living with HIV/AIDS in the South. AIDS Patient Care STDS. 2016 Jul;30(7):349-56. doi: 10.1089/apc.2016.0026. PMID: 27410498; PMCID: PMC4948216.
Fletcher F, Ingram LA, Kerr J, Buchberg M, Richter DL, Sowell R. "Out of All of this Mess, I Got a Blessing": Perceptions and Experiences of Reproduction and Motherhood in African American Women Living With HIV. J Assoc Nurses AIDS Care. 2016 Jul-Aug;27(4):381-91. doi: 10.1016/j.jana.2015.12.003. Epub 2015 Dec 23. PMID: 26781931; PMCID: PMC4903940.
Posts by Faith E. Fletcher
Related Posts