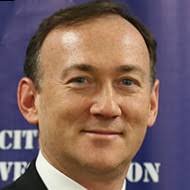 Mark Cardwell
Chief Engagement Officer
Mark Cardwell leads The Hastings Center's efforts to improve impact, engagement and communications.
He was previously the Deputy Commissioner for External Affairs for New York City's inspector general.  Prior to his service with the City, he was a Senior Advisor at the US Agency for International Development, where he led outreach efforts with internal and external stakeholders to advance best practices in digital development.  At USAID he also led transparency and open data work in the Agency's Global Development Lab.  He previously served as Chief of Online Communications and the transparency lead at the United Nations Development Programme where he led the drive for openness, including the implementation of the International Aid Transparency Initiative and the launch of the organization's transparency portal. Before joining the UN, he was Managing Editor / Digital at The Denver Post, Editorial Director at ABC News Digital, and Executive Producer at the Associated Press.
He holds degrees from Columbia University and Boston University.
Related Posts