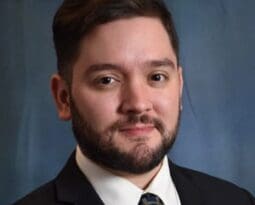 Zachary A. Zalewski, 2018 Presidential Scholar of Law
Zachary Zalewski has had extensive training in both biological science and law. His primary interest is to promote sound research policy, especially with respect to next-generation genome sequencing and targeted genomic editing. He seeks to intersect the law and empirical science with bioethical issues that reach both.
Zachary is a third-year law student at Case Western Reserve University School of Law, and has concentrated his studies in health law through Case Western's Law-Medicine Center, the nation's first law school-based center for the study of health law and legal medicine. He is visiting The Hastings Center as part of Case Western's capstone program, an experiential semester-in-residence. He expects to complete his J.D. in May 2018. He has a Ph.D. in molecular and human genetics in 2015 from Baylor College of Medicine.