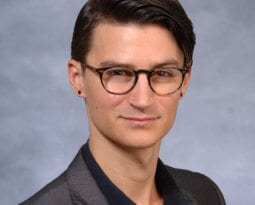 Joel Michael Reynolds, Rice Family Fellow in Bioethics and the Humanities
Joel Michael Reynolds is the 2017-19 Rice Family Fellow in Bioethics and the Humanities and an assistant professor of philosophy and disability studies at Georgetown University. His research and public engagement center on foundational issues concerning ethics, society, and embodiment. What does flourishing mean in the genomic age?  How can one be ethical in an unjust world? How do our bodies shape experience, understanding, and judgment? He is especially concerned with the meaning of disability, the issue of ableism, and how philosophical inquiry into each might improve the lives of people with disabilities and the justness of institutions ranging from medicine to politics. Seeking to bring reflective and empirical insights together, he engages work across the humanities and social sciences, with a special emphasis on the role of narrative and lived experience. As the Rice Fellow, Dr. Reynolds contributes to the Hastings Center Initiative in Bioethics and the Humanities, supported by a National Endowment for the Humanities challenge grant and private donors. Among other topics, Dr. Reynolds' research for the initiative focuses on questions of genomic responsibility and other ethical, legal, and social implications of genomics. He is co-director, with Erik Parens, of a 2-year, $250k NEH Public Humanities Community Conversations grant project: "The Art of Flourishing: Conversations on Disability and Technology." He is also the founder and, along with Teresa Blankmeyer Burke, the editor of the Journal of Philosophy of Disability, the inaugural issue of which will appear in fall 2021.
Dr. Reynolds is the author or co-author of twenty peer-reviewed articles and book chapters, author of a forthcoming book with The University of Minnesota Press (Ethics After Ableism: Disability, Pain, and the History of Morality), co-editor with Christine Wieseler of a forthcoming edited volume with Routledge (The Disability Bioethics Reader), and editor with Erik Parens of a Hastings Center special report, For "All of Us?" On the Weight of Genomic Knowledge.
His current research is building towards two book-length projects: one scholarly work engaging central debates in philosophy of disability (currently entitled The Meaning of Disability) and one public-facing work using research in bioethics, phenomenology, disability studies, feminist philosophy, and social epistemology to investigate how modern medical practice could become more just and equitable (currently entitled Just Care: Politics, Public Health, and the Promise of Medicine). His public philosophy has been featured in TIME, The New York Times' The Stone (this spring), HuffPost, AEON, and in a Tedx talk. He is also a regular contributor to the researcher-led news outlet The Conversation. For more detailed information, please see his website: joelreynolds.me
IN THE MEDIA
ITSP Magazine's "The Future of the Future" Podcast: "Disability, Technology, and Flourishing w/ Joel Michael Reynolds"
The Conversation: "3 Ethical Reasons to Vaccinate Your Children"
Examining Ethics Podcast interview on "Caregiving, Finite Responsibility, and Infinite Hope"
AEON on The Politics of Prognosis
TIME on gene-editing, disability, and family
TEDx talk on ethics, disability, and family
The UnMute Podcast interview on philosophy, technology, stigma, and disability
SELECTED SCHOLARLY PUBLICATIONS & COMMENTARIES
Joel Michael Reynolds and David M. Peña-Guzmán, "The Harm of Ableism: Medical Error and Epistemic Injustice," Kennedy Institute of Ethics Journal 29(3): 205-242
Joel Michael Reynolds, "How Biomedical Technologies Harm Patients as Knowers," The Southern Journal of Philosophy, forthcoming.
Joel Michael Reynolds, "Three Things Clinicians Should Know about Disability," AMA Journal of Ethics 20(12): E1182-1188
Joel Michael Reynolds, "The Extended Body: On Aging, Disability, and Well-Being," The Hastings Center Report 48(S3): S31-36
Joel Michael Reynolds, "Toward a Critical Theory of Harm: Ableism, Normativity, and Transability (BIID)," APA Newsletter on Philosophy and Medicine 2016; 16(1): 37-45.
Joel Michael Reynolds, "Infinite Responsibility in the Bedpan: Response Ethics, Care Ethics, and the Phenomenology of Dependency Work," Hypatia: A Journal of Feminist Philosophy 2016; 31(4): 779-94. DOI: 10.1111/hypa.12292, 2016.
Joel Michael Reynolds, "The Ableism of Quality of Life Judgments in Disorders of Consciousness: Who Bears Epistemic Responsibility?" American Journal of Bioethics Neuroscience 2016; 7(1): 59-61. DOI:10.1080/21507740.2016.1150911.
You can also follow Dr. Reynolds on PhilPapers, ResearchGate, Google Scholar, SSRN, and his personal website.