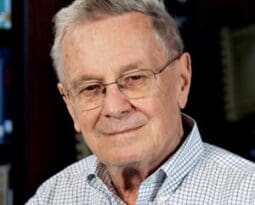 Daniel Callahan, Cofounder, President Emeritus, Board Member
Daniel Callahan is a pioneer in bioethics, a noted author, and one of the world's preeminent bioethics scholars. He cofounded The Hastings Center with Willard Gaylin in 1969 and served as its director from 1969 to 1983 and president from 1984 to 1996. He is currently member of the Board of Directors. He is a senior scholar at the Institution of Politics and Policy Studies at Yale University and has been a senior lecturer at Harvard Medical School. He is also a cofounder of The Yale-Hastings Program In Ethics and Health Policy. Dr. Callahan received his Ph.D. in philosophy from Harvard and his B.A. from Yale. He has honorary degrees from several universities, including Charles University in the Czech Republic.
He is an elected member of the National Academy of Medicine and a member of the National Academy of Social Science, and he is a former member of the Director's Advisory Committee of the Centers for Disease Control and Prevention and of the Advisory Council of the U.S. Department of Health and Human Services Office of Scientific Integrity. He won the 1996 Freedom and Scientific Responsibility Award of the American Association for the Advancement of Science. He was awarded the 2008 Centennial Medal of the Harvard Graduate School of Arts and Sciences.
Dr. Callahan is the author or editor of 47 books and 450 articles. Six of his books have won prizes or special citations. Setting Limits: Medical Goals in an Aging Society was a finalist for the 1987 Pulitzer Prize for Nonfiction. His most recent books are The Five Horsemen of The Modern World: Climate, Food, Water, Chronic Illness, and Obesity (Columbia University Press, 2016); In Search of the Good: A Life in Bioethics (MIT Press, 2012); The Roots of Bioethics: Health, Progress, Technology, Death (Oxford University Press, 2012); and Taming the Beloved Beast: How Medical Technology Costs are Destroying Our Health Care System (Princeton University Press, 2009). He has contributed articles to the New York Times, The New England Journal of Medicine, the Journal of The American Medical Association, The New Republic, Deadalus, and The Atlantic.