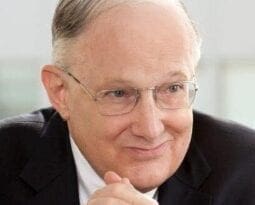 D. J. (Jan) Baker, Board Member
Jan Baker spent his legal career practicing in all phases of recapitalizations, restructurings and reorganization proceedings. At the end of 2016, he retired from Latham & Watkins LLP, where he had been Global Co-Chair of the Corporate Restructuring Practice Group. 
Since retiring from the practice of law, he has concentrated on board-related work for both non-profit entities and for public and private companies.  In addition to being a member of the Board of Directors of the Hastings Center, he also serves as a member of the Executive Committee of the Bankruptcy and Reorganization Group of UJA-Federation; a member of the Conservation Board of Philipstown, NY; a member of the Advisory Board of the Constitution Marsh Audubon Center & Sanctuary; and a director of Upsolve, a legal-aid non-profit   Separate and apart from his non-profit work, he has served as an independent director for a number of public and private  companies.  In addition, the United States Department of the Treasury has approved him as an independent voting trustee in connection with resolution of a global sanctions action brought by the United States government, and he is currently so serving.
In his legal practice, Mr. Baker advised managements and boards with respect to issues related to fiduciary duty, corporate governance, and restructuring.  In 2014, UJA-Federation presented him with the Professor Lawrence P. King Award; in 2016, Catholic Renewal selected him as the recipient of the St. Francis Service Award; and in 2019 the American College of Bankruptcy selected him as the recipient of its Distinguished Service Award.  Mr. Baker is a Fellow of the American College of Bankruptcy and served as its President and then as the Chair of its Board of Directors.  A member of the American Bankruptcy Institute, he served as a member of the ABI Commission to Study the Reform of Chapter 11.