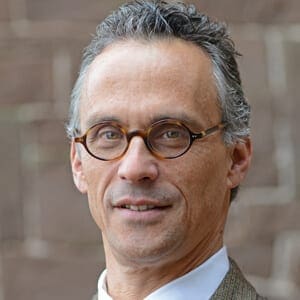 Michael Roth
Ph.D.
Board Member
Michael S. Roth became the 16th president of Wesleyan University in 2007. He is a graduate of Wesleyan (1978) and received his Ph.D. in history from Princeton University (1984).
In 1996, Roth moved from Scripps College, where he was Hartley Burr Alexander Professor of Humanities and founding director of the Scripps College Humanities Institute, to join the Getty Research Institute in Los Angeles, becoming associate director in 1997. In 2000, he became president of the California College of the Arts in Oakland and San Francisco. Under his leadership the institution became known as "one of the most progressive art schools in the country" and one of the "leading schools of design in the world."
Author and curator (most notably of the exhibition "Sigmund Freud: Conflict and Culture," which opened at the Library of Congress in 1998), Roth describes his scholarly interests as centered on "how people make sense of the past." His fifth book, Memory, Trauma and History: Essays on Living with the Past will be published this year by Columbia University Press, and he is currently preparing his next book, Why Liberal Education Matters, for Yale University Press. He continues to publish essays, book reviews, and commentaries in a wide variety of venues, including national newspapers, scholarly journals, and the Huffington Post.
At Wesleyan, Roth has increased grant support for students who receive financial aid and has overseen the launch of the Usdan University Center, the Allbritton Center for the Study of Public Life, the Shapiro Creative Writing Center, and the multidisciplinary College of the Environment. He has re-oriented fundraising and spending to emphasize support for financial aid and core academic programs. Roth teaches every semester and is working with faculty, students, and staff to anchor civic engagement and innovation within the University's curriculum.
Related Posts